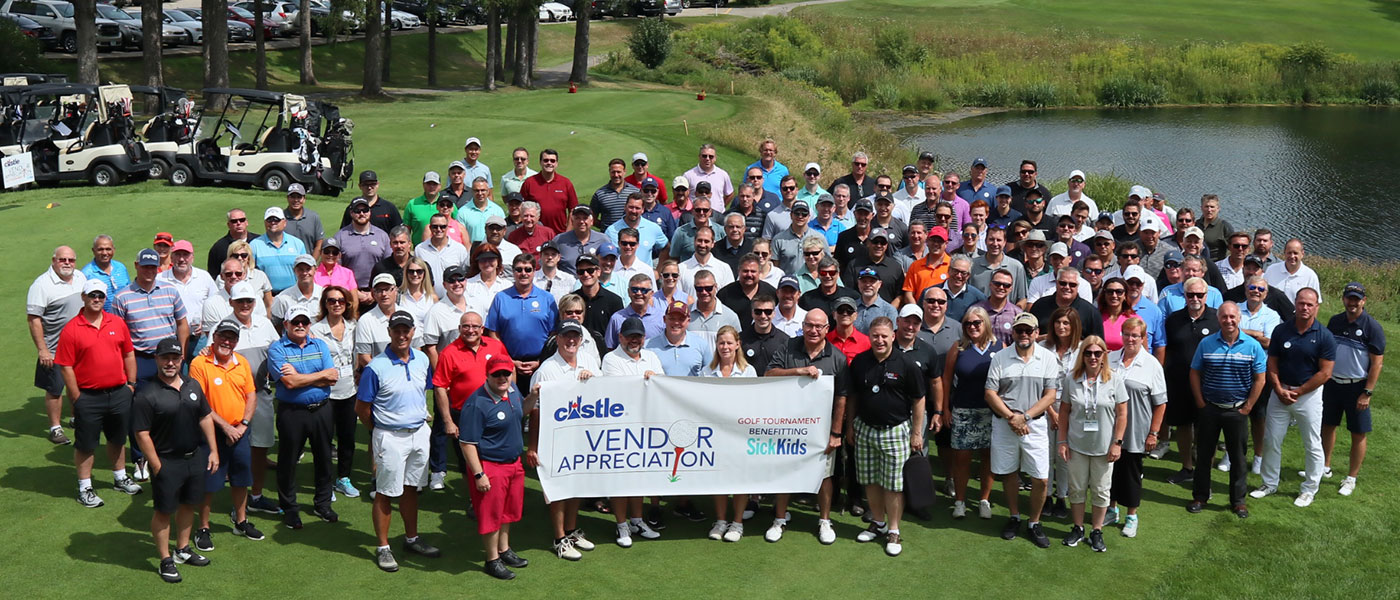 Castle Vendor Appreciation Tournament
On Monday August 26th 2019, Castle staff and our Vendor Partners gathered at the picturesque Club at North Halton in Ontario for the annual Castle Vendor Appreciation Golf Tournament. The pristine greens and rolling hills made for a beautiful backdrop for another day filled with enjoyment on the perfectly groomed private golf course.
Over 150 guests, including Castle board members and Vendor Partners from across Canada attended Castle's annual event and enjoyed a fun-filled day of golf, camaraderie and exciting charity golf challenges. The participants had the opportunity to donate to a worthy cause, win great prizes and enjoy a spectacular day at the Club at North Halton's award-winning course.
"Castle recognizes the importance of acknowledging the contribution of our Vendor network and appreciate the dedication and commitment required, to be successful in this industry. It is important to show gratitude to our suppliers for their dedication and their commitment to Castle." - Ken Jenkins, President
The annual charity golf function supports The SickKids Foundation and golfers had the opportunity to donate to great cause and participate in many charity holes throughout the game. Following the tournament, players enjoyed a gourmet meal and awards presentation in the dining room overlooking the 9th hole. This year they were joined by a very special guest speaker; Jack Prins who is a two-time former patient of SickKids Hospital in Toronto. Jack shared his heart-wrenching story of his fight against Leukemia, and how the family at SickKids was such a crucial part of his journey to remission and recovery.
The incredible generosity of the golf tournament participants raised an all-time record amount of $35,000.00 in charitable donations for SickKids Foundation. Castle is proud to be a "Patron" on the wall of donors at SickKids Hospital in Toronto and part of the community dedicated to improving the health of children by providing the best in family-centred, compassionate care.
Castle's annual Vendor Appreciation Golf Tournament recognizes the Valued Vendor Partners who play an on-going role in the success of Castle and the Independent Retailer Castle Building Centres Group would like to thank their Valued Vendor Partners for their incredibly generous donations at this year's charity event and for making the 2019 Castle Golf Tournament another enormous success.