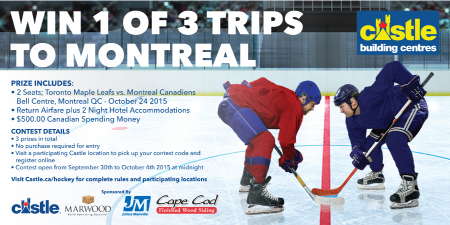 Castle is pleased to present our first online contest promotion the "Ultimate Hockey Experience". Open exclusively to participating member locations in the Maritime provinces.
POP kits will be delivered by September 4th giving to the participating locations ample time to promote the contest prior to the event. The package includes:
1 x Counter Easel Stand
Supply of Coded Entry Cards to attach to easel
1 x 2ft x 3ft poster
2 x Contest Rules
1 Web Graphic (attached) for use on social media and web
Customers will pick up a coded entry card in store which will allow them to enter one time via desktop or mobile at www.castle.ca/hockey to secure entry their entry. The participation and entry sequence are attached in a presentation for your information.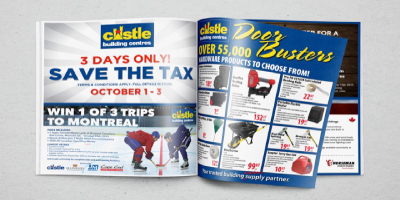 The promotion will be advertised in the Fall Regional Flyer and commences at 12:00:01 am (ET) Wednesday, September 30, 2015 and will end at 11:59:59 PM (ET) Sunday, October 4, 2015 (the "Promotional Period") giving participants a chance to enter for 5 full days. The winner will be selected randomly on Tuesday, October 6, 2015 at 3 pm ET. One prize per province (NS, NB, PEI) will be awarded. Full contest rules and details will be included in the POP package.
If you have any questions or require additional entry cards please contact Jennifer at the Castle Head Office at jmercieca@castle.ca
Good Luck to all!
Below you will find a presentation detailing contest participation and a downloadable web graphic.
Download web graphic below:

View presentation: